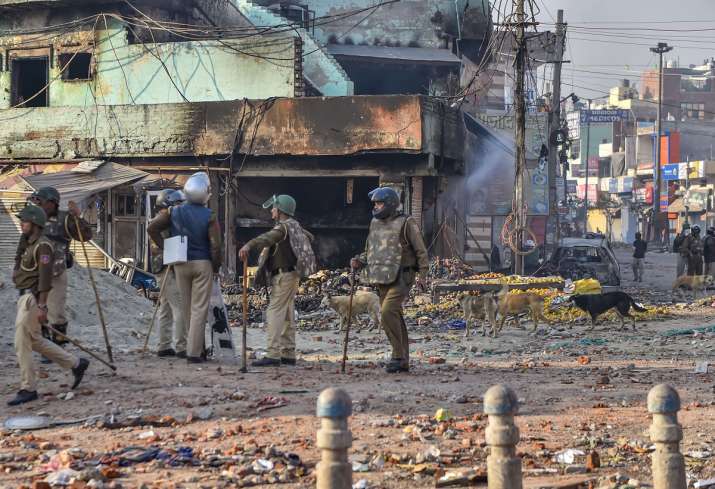 New Delhi, Feb 26 (IANS) Thirteen people have lost their lives in the violence in North-East Delhi, while 186 people have been reported injured, the GTB Hospital said on Tuesday.
The identity of the deceased has not been made public as of now by the authorities, while the Delhi Police said that 56 policemen were among the injured.
Earlier in the day, addressing a press conference, Delhi Police spokesperson, ACP Mandeep Singh Randhawa said that 10 people had died while 186 people injured in the violence which erupted on Sunday.
Randhawa also claimed that the situation is under control in Jafrabad, Gokulpuri, and Maujpur areas as the police and government are alert and security has been beefed up in the areas.
He said that of 186 injured, 56 are policemen and condition of DCP Amit Sharma and the Gokulpuri ACP, who are under treatment, is critical.
As of now 11 FIRs have been registered in this regard and several arrests have been made, the ACP said.
Additional police forces and paramilitary forces have been deployed while senior Delhi Police officials are also present at the spot to tackle the situation.
Meanwhile, the Delhi Police have issued orders to shoot-at-sight in violence-hit parts.
NSA Doval reaches Seelampur, holds meet with Delhi top cop
Taking account of the rampant violence in North-East Delhi, the National Security Advisor (NSA) Ajit Doval and Delhi Police Commissioner Amulya Patnaik reached Seelampur area on Tuesday night.
The two had a meeting with DCP North-East to discuss ways to restore normalcy in the region.
The meeting between the top officials continued for about half an hour as a DCP rank officer told IANS the meeting began at 11:15 p.m. and ended at around 11:45 p.m.